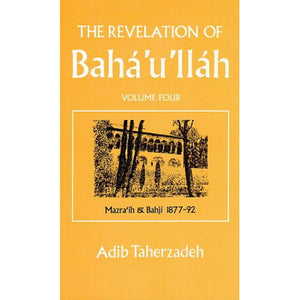 The Revelation of Baha'u'llah Volume 4
Sale price Price $30.00 Regular price
Tax included.
The Revelation of Baha'u'llah Volume 4 
The Revelation of Bahá'u'lláh is a four-volume series about the Scriptures of the Bahá'í Faith. It is a unique survey of the Writings of Bahá'u'lláh, using both authentic English translations and original sources, that describes the contents of all major works, including many unknown in the West.
Volume 4
Volume 4 covers the most momentous period in the ministry of Bahá'u'lláh, the final years of His life when after the long period of exile and imprisonment He took up residence in the delightful Mansion of Bahjí. Here He revealed Tablets of unsurpassed importance, including His last major work Epistle to the Son of the Wolf. Many of the allusions in these Tablets to persons and events are explained in this book.
Author: Adib Taherzadeh