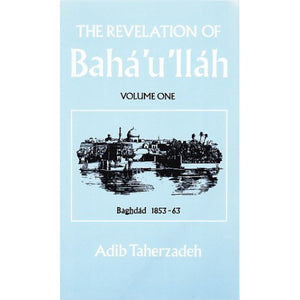 The Revelation of Baha'u'llah Volume 1
Sale price Price $30.00 Regular price
Tax included.
The Revelation of Baha'u'llah Volume 1 
The Revelation of Bahá'u'lláh is a four-volume series about the Scriptures of the Bahá'í Faith. It is a unique survey of the Writings of Bahá'u'lláh, using both authentic English translations and original sources, that describes the contents of all major works, including many unknown in the West.
Volume 1
First of four volumes on the Writings of the Founder of the Bahá'í Faith during His forty-year ministry, describing their contents, including much as yet untranslated, with fascinating descriptions of the circumstances of the time and the persons addressed.

Vol. 1 covers Bahá'u'lláh's period of exile in Baghdád, 1853-63.
Author: Adib Taherzadeh