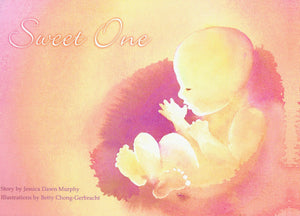 Sweet One
Sale price Price $20.00 Regular price
Tax included.
Sweet One invites the reader into the thoughts of an expecting mother, who is dreaming of her unborn child, and imagining all that awaits the new little soul.
The exquisite watercolor pages depict the baby growing from infancy into adulthood, and the spiritual capacities the soul is sure to acquire on her journey through this world. Woven into the paintings, the reader will find quotes from the Bahá'í Writings which speak to the purity and beauty of the soul, its spiritual progress, and the purpose of existence.
This book is sure to be enjoyed by all, especially the expecting family, or small children who love nothing more than to imagine a time when they were in their mother's womb. It is a powerful read aloud and also a beautiful gift for a birthday or special Holy Day.
Sweet One is meant to be enjoyed by people of all Faiths and is a precious introduction to the Bahá'í Writings. The quotations were carefully selected to represent common spiritual truths, and the multi-ethnic characters and diverse settings are sure to attract people from all backgrounds.
A beautiful coffee table book and gift of love for all, who have, or know, a sweet one.