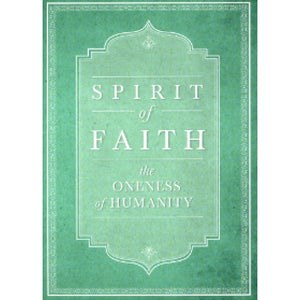 Spirit of Faith - The Oneness of Humanity
Sale price Price $15.00 Regular price
Tax included.
Spirit of Faith: The Oneness of Humanity is a compilation of writings and prayers that focus on the inherent oneness of all the peoples of the world.
Spiritual seekers of all faiths will relish these uplifting passages that underscore the unity of thought that helps us define our place within a single, unfolding, and divine creation. This collection contains writings from Baha'u'llah, the Bab, and 'Abdu'l-Baha.
The Spirit of Faith series explores a range of topics - such as the unity of humanity, the eternal covenant of God, the promise of world peace, and much more - by taking an in-depth look at how the writings of the Baha'i Faith view these issues. The series is designed to encourage readers of all faiths to think about spirituality, and to take time to pray and meditate on these important topics.