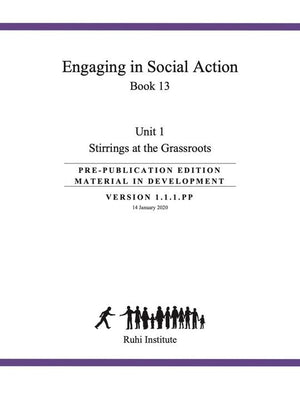 Ruhi Book 13 Unit 1
Sale price Price $3.00 Regular price
Tax included.
The study of this book is currently associated with a regional learning process. If you wish to tutor this course of the institute or are intending to participate in its study, please get in touch with your regional institute board.
North Island Regional Institute Board: rib-north@bahai.org.nz 
South Island Regional Institute Board: rib-south@bahai.org.nz
Book 13 _ Engaging in Social Action _ Unit 1 _ Stirrings at the Grassroots
The first unit of this course examines instances of social action that are relatively simple and emerge naturally as the community-building process in a locality, cluster, or region advances. Within this context, participants gain insights into:
how the institute process creates conditions, at the level of the individual and at the level of culture, that are conducive to engagement in social action;
how social action emerges from natural stirrings at the grassroots;

how some of the initiatives that arise remain simple and last for just a short period, while others become more complex as they are sustained over time;

how acting within a shared conceptual framework allows the community to achieve coherence in its efforts;

how the institution of the Local Spiritual Assembly promotes and supports social action and assists the friends to avoid certain pitfalls;

and how the capacity to read social reality must consistently grow.