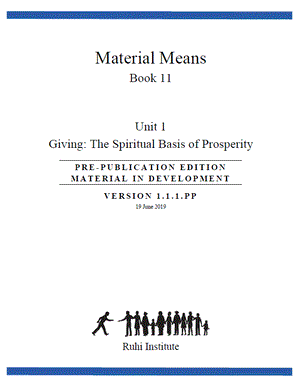 Ruhi Book 11 Unit 1 & 2
Sale price Price $5.00 Regular price
Tax included.
Unit 1 _ The Spiritual Basis of Prosperity
Unit 2 _ The Institution of the Fund
The first unit focuses on the attributes of a generous heart. Participants begin by exploring wealth as a concept, including the appropriate acquisition and expenditure of wealth. They then explore qualities related to generosity such as purity; love; detachment; freedom from greed and envy; forgiveness and forbearance; munificence; justice; and sacrifice.
The second unit focuses on the material means required to advance the civilisation-building enterprise currently underway. It explores concepts such as the diverse resources which are drawn upon in this process; the importance of trust and reliance on God; the way in which spiritual qualities moderate each other; the fact that means by definition must serve a purpose; the danger of treating money as an end in itself; the role of the Bahá'í Fund; the establishment of a new set of relationships among the three protagonists in the society building endeavours; the spirit of sacrifice; universal participation; the role of the institutions in regard to the Fund; and the various types of Funds.