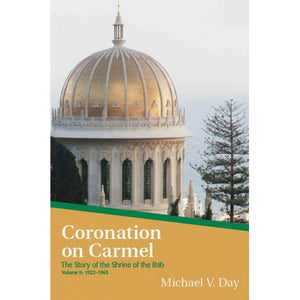 Coronation On Carmel
Sale price Price $42.00 Regular price
Tax included.
The Story of the Shrine of the Báb
Volume II: 1922–1963
Continuing the thrilling story of the Shrine of the Báb, this volume covers the building of the superstructure of the 'Queen of Carmel'. 
A drama opens on Mount Carmel in Haifa in the Holy Land in 1922.
The new head of the Bahá'í Faith, Shoghi Effendi, begins the project to complete the Shrine of the Báb by building a domed superstructure. Aged only 24, he is faced with an almost impossible task. He has nowhere near enough money, no competent assistants, no building experience.
Undaunted by the challenge, Shoghi Effendi toils towards his goal through decades of upheaval and opposition. As time moves on, he gathers support from the growing Bahá'í community worldwide, and particularly from his wife, who becomes his tireless collaborator; an eminent Canadian architect; an Italian nobleman; a selfless donor; a Haifa construction engineer; a can-do American project manager he nicknames 'Hercules'; and an Arab called 'The Man with the Golden Touch'.
This true story follows Journey to a Mountain (1850–1921), the pulsating description of the transfer of the sacred remains of the Báb from Persia to the Holy Land, and their interment in the Shrine built by 'Abdu'l-Bahá.
by Michael V. Day