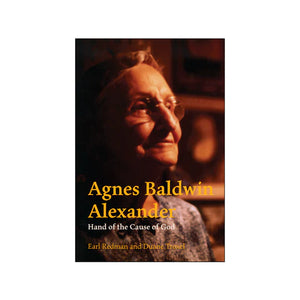 Agnes Baldwin Alexander - Hand of the Cause of God
Sale price Price $30.00 Regular price
Tax included.
Agnes Alexander was the only Hand of the Cause of God to be mentioned in the Tablets of the Divine Plan. 'Abdu'l-Bahá wrote of her: 'I declare by the Lord of Hosts that had this respected daughter founded an empire, that empire would not have been so great', and described her as 'the daughter of the Kingdom, the beloved maid-servant of the Blessed Perfection'.
Her life spanned the closing epoch of the Apostolic Age of the Faith and the earliest epoch of the Formative Age, saw the erection of National Spiritual Assemblies in lands where she was once the lone Bahá'í, and also witnessed the birth of the long-promised era of the Universal House of Justice.
This book is based on Agnes Alexander's own accounts of the establishment of the Bahá'í Faith in Hawaii and Japan, but more especially on the 40 years of research by Duane Troxel into her life – over 12,000 files of letters, photographs, audio and video interviews and a host of other previously unpublished materials. It was the task of author Earl Redman to distill these into this fascinating and readable story of an exceptional life.