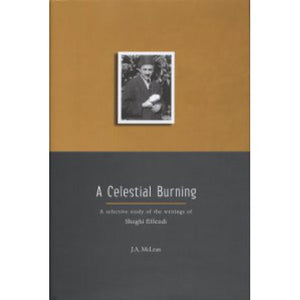 A Celestial Burning
Sale price Price $35.00 Regular price
Tax included.
A Celestial Burning : A Selective Study of the Writings of Shoghi Effendi 

This book is a comprehensive study of selected writings of Shoghi Effendi Rabbani (1897-1957), the Guardian of the Bahá'í Faith. The author has approached Shoghi Effendi's writings from two main perspectives: the Guardian as the divine interpreter, a man of incisive religious thought; and Shoghi Effendi the eloquent writer, a vocation that was inseparable from his sacred office as Guardian of the Faith. Based on years of careful analysis and research, the author treats such themes as Shoghi Effendi's view of providential history as divine drama, his effective use of rhetoric, his views on morality and spirituality, his understanding of the emerging world order as a modern-day apocalypse, and it analyzes the style and patterns that emerge from his epistolary prose.

This book will serve to inform not only scholars but also all those teachers, administrators, and general readers who seek a deeper understanding of these aspects of the writings of the Guardian, and who may wish to develop them in their talks or publications.
Author: Jack McLean