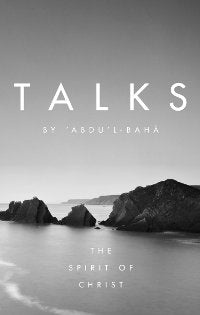 Talks by Abdu'l-Baha: The Spirit of Christ
Sale price Price $28.00 Regular price
Tax included.
This spiritually uplifting and thought-provoking collection of talks pays tribute to the spirit of Jesus Christ and the significance of His teachings and station. 
Talks by 'Abdu'l-Bahá: The Spirit of Christ
 is a collection of talks given by 'Abdu'l-Bahá during his historic journey through Europe and North America in 1911 and 1912, and specifically highlights talks that deal with the spirit of Christ, and the impact that His life and teachings had on the world. In these talks, readers will find glowing tributes to the station of Christ, Whom Bahá'ís revere as a divinely inspired Messenger of God.