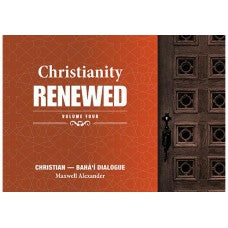 Christianity Renewed Volume IV
Sale price Price $12.00 Regular price
Tax included.
This illustrated book traces the development of the Christian Church and explores the major influences that have shaped, molded and divided it over the past two thousand years.
The book uses the Word of Jesus to let us know more about His own Reality, which is far greater than we imagine. It also talks about the nature of progressive revelation in the Bible, showing the spiritual steps mankind has been taking down the ages. There is a dialogue answering the most commonly asked questions about Christian doctrines, their origins and their spiritual intention. The last section shows the signs for the "Return" and deals with prophecies concerning the coming of the Spirit of Truth, foretold by Jesus Christ
Instead of looking at the imaginary differences which divide, let's look at the similarities in our faith which can only unite us. The Bahá'í Writings state: "for blind imitation of the past will stunt the mind. But once every soul enquires into truth, society will be freed from the darkness of continually repeating the past".