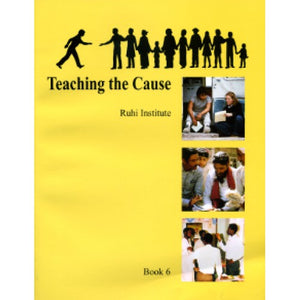 Ruhi Book 6 (New)
Sale price Price $8.00 Regular price
Tax included.
Ruhi Book 6 _ Teaching the Cause
The spiritual nature of teaching, as well as the qualities, attitudes, and the act of teaching are the main themes explored in Teaching the Cause.
In the context of these themes, participants advance understanding of the way in which sharing the Revelation of Bahá'u'lláh with others constitutes a sacred duty. They also develop an understanding of the relationship between this and the state of the world; the need for coherence between the inner and outer state of a teacher of the Faith; the need for purity of motivation and freedom from prejudice; the powers available to contribute to spiritual transformation; the power of the Word of God; the need to study and memorise the Word of God; the qualities required of a teacher of the Cause including purity, faith, courage, kindness, friendliness and humility.
Participants also become familiar with a flow of information and concepts that can be helpful in sharing the Teachings of Bahá'u'lláh with others.