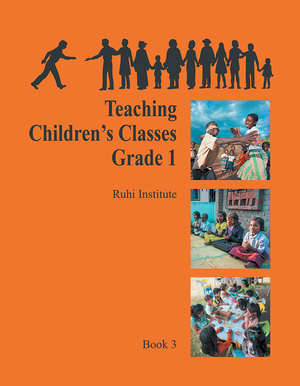 Ruhi Book 3 - Grade 1 (New)
Sale price Price $10.00 Regular price
Tax included.
Ruhi Book 3 - Grade 1
Teaching Children's Classes - Grade 1
The transformative effect of the spiritual education of children is the major theme explored in Teaching Children's Classes.

Grade 1

 

comprises two units: Some principles of Bahá'í Education; Lessons for Children's Classes Grade 1
In the context of the theme, participants explore such concepts as the value of serving as an educator of children; the inherent nobility and dignity of every human being; the educational process as one that supports realisation of capacity; the importance of supporting children's relationships with and love for God; the importance of coherence between the words and actions of a teacher.
Participants also build capacity to engage with the six elements of a Bahá'í children's class – prayer, memorisation of the Word of God, music, art, stories, and games. Capacity is built in participants to engage with the practical aspects of running a class for children such as, supporting children's capacity to engage with prayer; engaging with discipline and behaviour management; establishing and implementing rules to guide conduct; maintaining records of attendance and progress of each child; and engaging with the family of each child.