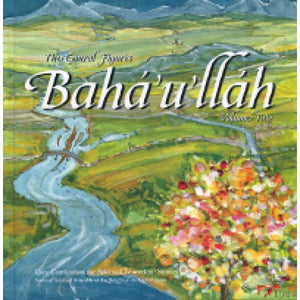 Central Figures: Baha'u'llah, Vol. 2
Sale price Price $25.00 Regular price
Tax included.
Readers of this endearing storybook, second in this series, will enjoy inspiring, fully illustrated stories on the life and teachings of Baha'u'llah which address the following topics: The Suffering and Sacrifices of Baha'u'llah; The Relationship between Baha'u'llah and Abdu'l-Baha; The Holy Family; The Station of Baha'u'llah as Stated by His Own Pen; The Experience of Baha'u'llah in the Siyah-Chal; The Banishment of Baha'u'llah to Iraq; The Declaration of Baha'u'llah in the Garden of Ridvan; Progressive Revelation; The Social Principles of Baha'u'llah; and The Significance of the Writings of Baha'u'llah. Click here to see a sample page from this storybook. 
This is the second in a series of colorful, beautifully illustrated storybooks on the history and teachings of the Baha'i Faith. With stories set in historical as well as contemporary contexts, readers will have the opportunity to relive the history of the Faith, while also learning to apply the Baha'i teachings in their everyday lives. Readers will fall in love with these tales of love, service, and sacrifice for the betterment of humanity. Perfect for teachers, parents, and readers of all ages, this comprehensive series of storybooks is designed to accompany the Core Curriculum Lesson Planning Guides for teachers of children and junior youth, or stand alone. 
Created through the dedicated efforts of many distinguished authors and illustrators, this volume will capture the hearts of young readers, calling them to think about their purpose in life and inviting them to participate in God's plan for humanity. Corresponding discussion questions for each story help to foster a deeper understanding of the Faith, its history, and its relevance to contemporary circumstances. Children everywhere will love the storybooks, as will parents and teachers.